Strategies for Public Sector Transformation 1998
Partners in Change
September 22, 1998 - Victoria, British Columbia, Canada

Keynote Speakers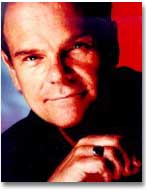 Don Tapscott
Don Tapscot gave a rousing speech at the Strategies for Public Sector Transformation 1998, which was held September 22, 1998 in Victoria, B.C.
Don Tapscott, Chairman of Alliance for Converging Technologies, is best known as the author of The Digital Economy: Promise and Peril in the Age of Networked Intelligence. This book became an international best seller within one month of its release.
He is a consultant to the world's largest corporations, his clients include the top executives of many Fortune 100 companies and other leading enterprises around the world.
Tapscott's books include Growing Up Digital: The Rise of the Net Generation, now in its fourth printing; Paradigm Shift: The New Promise of Information Technology, which is now in its 11th printing; and Who Knows: Safeguarding Your Privacy in a Networked World.
He is also the co-editor of Blueprint to the Digital Economy, an anthology which contains chapters written by a cross-section of leaders of the digital revolution, including Vinton Cerf (MCI and founder of the Internet), John Seely Brown (XEROX PARC), James Moore (author of The Death of Competition) and Michael Nelson (former special advisor to President Clinton and Vice-President Gore at the White House).
Don Tapscott is also a columnist for Canada's National Post newspaper