Strategies for Public Sector Transformation 1999
Electronic Service Delivery
September 23, 1999 - Victoria, British Columbia, Canada

Award Banquets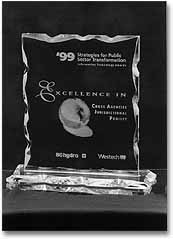 Cut Glass Trophy
The Strategies for Public Sector Transformation 1999 is where more than one thousand delegates from private and public sectors got together for two days of presentations centred on government electronic service delivery. A new attraction this year at the annual event was the B.C. Public Sector Information Technology Awards. It was a night of glass trophies, pats on the back and industry recognition of jobs well done for bureaucrats normally confined to the back shops of various ministries.
The 1999 Public Sector Information Technology Awards were designed to formally recognize leadership, innovation and excellence in the management and use of information technologies within the public service and Crown corporations of British Columbia.
Eligible projects were those completed between April 1, 1997 and March 31, 1999.
Winners were honoured at an Awards Banquet on September 22 at the Victoria Conference Centre. Organized into five categories, the winning projects were:


Category
Abstract
Winner
Innovative Web Development


400 plus page web wonderland history web site for students. Gallery specific to grade/reading level in association with BC education curriculum. The archives got four million hits in 1998 and will probably double that traffic in coming years.
BC Archives Amazing Time Machine (ISTA, Ministry of Advanced Education, Training and Technology)
Cross Agency


A one stop business registration project that brings assorted departments at all levels together at one time for the convenience of business start-up.
One Stop Business Registration (Ministry of Small Business, Tourism and Culture)
Electronic Service Delivery


A project that connected nine hospital emergency rooms to Pharmanet, the province's on-line prescription management program. It gives trauma teams quick access to patients' drug records.
Emergency Department Access to Pharmanet (Ministry of Health)
Cost Effectiveness/
Productivity


The automated land title system instituted within the government's land titles branch took five years of hard work. Registration turnaround had gone from six weeks to 48hrs.
Automated Land Titles Office System (Ministry of Attorney General)
Skills Development


A vendor project within the Liquor Distribution Branch. A system that manages information on all the providers of products and services to the LDB, part of a suite of applications that will eventually reorganize the outfit's entire supply chain.
Vendor Project (Liquor Distribution Board)