Strategies for Public Safety Transformation - Terrorism and Technology: Prevention, Protection and Pursuit
The Fairmont Chateau Whistler, Whistler, B.C., Canada
April 29-30, 2002
About the Conference
This world-wide conference & exposition focused on the transformation of public safety with a specific focus on Integrated Justice initiatives and opportunities. Delegates will hear what British Columbia is doing to advance Integrated Justice, and discuss how the concept can improve public safety everywhere.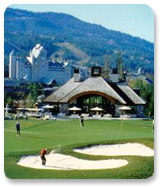 Whistler, British Columbia

We drew 400 - 500 law enforcement senior executives and practitioners: senior policymakers, lawmakers, and funding providers from provinces, states, US and Canadian federal governments and jurisdictions. These delegates were seeking information on best practices and best suppliers.
Keynote Speakers
The Hon. Lawrence MacAulay - Solicitor General of Canada, 1998-2002
The Hon. Janet Reno - former Attorney General of the United States of America, 1993-2001.
Louis Freeh - former Director of the United States Federal Bureau of Investigation, 1993 - 2001.