May 3-4, 2007
Rory Armes
An EA veteran since 1998, Rory Armes is group general manager of EA's three Canadian-based studios - EA Canada (EAC) and EA Black Box (EAX) in Vancouver, as well as EA Montreal (EAM). Mr. Armes is based at EA Canada, the largest and most prolific interactive development studio in the world, which is home to such blockbuster global franchises such as FIFA, NBA LIVE, NHL and Fight Night. Among the other notable EA franchises developed in Canada are Need for Speed (EAX), which has generated more than $2 billion in revenue since its inception more than a decade ago, and two new properties set to debut in 2007 - Skate (EAX) and Army of Two (EAM).
In his role, Mr. Armes oversees programming, artwork, audio, research and development, quality assurance, and strategy for top titles across EA's three brands - EA, EA SPORTS and EA SPORTS BIG - as well as across all platforms - including console systems from Sony, Microsoft and Nintendo, PC, and portable devices like Sony's PlayStation Portable, the Nintendo DS and GameBoy Advance.
Alexander Seropian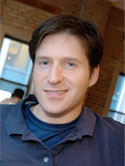 Alexander Seropian is the founder and CEO of Wideload Games, Inc. At Wideload, Alex has crafted a new kind of game developer that utilizes an external development model similar to film production. Alex began his career as the founder and CEO of Bungie Software. Alex grew Bungie to become a leading independent developer of video games and member of the Inc 500. Under his guidance, Bungie created some of the most celebrated game franchises in the industry, including Marathon, Myth, Oni, and Halo. In 2000, Alex negotiated the acquisition of Bungie by Microsoft and launched Halo for the Xbox. Halo is the best selling and foremost franchise title for the Xbox, having shipped over ten million units. Halo is the recipient of the 2002 AIAS console game of the year award.