Strategies for Public Sector Transformation 2000
Public/Private Partnerships
September 26-27, 2000 - Victoria, British Columbia, Canada

Award Banquets
Public Sector Information Technology Awards 2000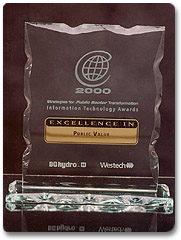 Winners Trophy
The 2000 Public Sector Information Technology Awards are designed to formally recognize leadership, innovation and excellence in the management and use of information technologies in the public service of British Columbia.
Through the generous sponsorship of BC Hydro and Westech Information Systems, an awards banquet is held the evening before the Strategies for Public Sector Transformation Conference to honour those individuals and teams who have excelled in the implementation of information technology.
Eligible projects were those completed between April 1, 1998 and March 31, 2000.
Winners were honoured at an Awards Banquet on September 26 at the Victoria Conference Centre. Organized into five categories, the winning projects were:

---
Category: Public Value
Winner: Victoria Hospice Society
Project: Outcomes Measurement Project

This award recognizes an achievement of particular public benefit related to an innovative advancement in Information Technology Systems Design. Projects and accomplishments will be evaluated on the basis of how services to the public are enhanced through improved access, or a significant of environmental benefit. The benefit, as perceived by the public, would be measured by improved efficiency and/or effectiveness of the services provided by the government ministry/agency or Crown Corporation.




---
Category: Electronic Service Delivery
Winner: Forest Renewal BC
Project: Investment Management System

This award recognizes outstanding achievement in delivering existing or new government services electronically to internal or external clients. Outstanding service achievement will be evaluated on the successful use of electronic service delivery, including innovative web development. Service will be more economical, accessible and responsive




---
Category: Innovative Team Development
Winner: Information Management Group, Ministry of Health
Project: Health Capital Assessment and Planning System

This award recognizes project teams that have demonstrated the successful application and related skill transfer to the use of new or innovative technology. Project teams will be evaluated on the basis of innovative planning and management practices, new collaboration techniques, development and transfer of new skills and their contribution to recruitment, retention and organization effectiveness.




---
Category: Multi-Organizational Project
Winner: CivicInfo BC
Project: CivicInfo BC Project

This award will recognize collaboration and joint investment by two or more organizations, which may include various levels of government, Crown corporations and/or private sector partners. The projects will be evaluated on the basis of effective collaboration and the strategic outcomes achieved. The projects must demonstrate improved service to external and/or internal clients, enhanced productivity, reduced cost and creativity.




---
Category: 2000 Special Category Award: Municipality Project
Winner: Prince Rupert Public Library
Project: Prince Rupert Public Library Web Project

This year's Special Category Award will be presented to a British Columbia Municipality that has embarked on an innovative Information Technology project that recognizes an individual or project team. This project will have made a significant impact at the local government level to improve the delvery of services or improve internal operations. This may be the development of new municipal services or streamlining of existing systems. Consideration will be based on the overall benefit, strategic value, complexity, operational and technical excellence of the project or the individual's contribution.




---
Recipient: Chris Haynes

For exhibiting an unwavering dedication to the success of the Public Sector Technology Awards, a special award was given to Chris Haynes, Assistant Deputy Minister for the Ministry of Social Development and Economic Security.

Mr. Haynes chaired the Awards Committee which established categories and criteria for the 2000 awards and played a key role in the process undertaken to make the Technology Awards so successful.

The special award was a small token of appreciation from the sponsors and organizers for the fine work and commitment from Mr. Haynes in recognizing excellence in the public sector of British Columbia.