Strategies for Public Sector Transformation 2001
Alternative Service Delivery
September 26-27, 2001 - Victoria, British Columbia, Canada

Award Banquets
Public Sector Technology Awards 2001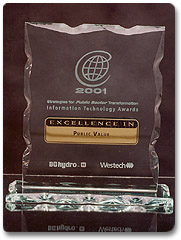 Winners Trophy
The 2001 Public Sector Information Technology Awards are designed to formally recognize leadership, innovation and excellence in the management and use of information technologies in the public service of British Columbia.
Through the generous sponsorship of BC Hydro and Westech Information Systems, an awards banquet is held the evening before the Strategies for Public Sector Transformation Conference to honour those individuals and teams who have excelled in the implementation of information technology.
Eligible projects were those completed between April 1, 1999 and March 31, 2001.
Winners were honoured at an Awards Banquet on September 26 at the Victoria Conference Centre. Organized into five categories, the winning projects were:

---
Category: Public Value
Co-Winners:

Taxpayer Administration Compliance and Service System (Ministry of Finance)
SelfAdvocateNet.com / CareNet BC (Ministry of Human Resources)

This award recognizes an achievement of particular public benefit related to an innovative advancement in Information Technology Systems Design. Projects and accomplishments will be evaluated either on the basis of how services to the public are enhanced through improved access, or of a significant or environmental benefit. The benefit, as perceived by the public, would be measured by improved efficiency and/or effectiveness of the services provided by the government/ministry/agency or Crown Corporation.










---
Category: Electronic Service Delivery
Winner: InfoBasket (Ministry of Agriculture, Food and Fisheries)

This award recognizes outstanding achievement in delivering existing or new government services electronically to internal or external clients. Outstanding service achievement will be evaluated on the successful use of electronic service delivery, including innovative web development. Service will be more economical, accessible and responsive.
---
Category: Excellence in Project Management
Winner: Strategic Technology Effectiveness Project (Ministry of Children and Family Development)

This award recognizes project teams that have demonstrated the successful application of the art, science and philosophy of project management. Projects will be evaluated on the basis of how well client needs were met, budget and schedule performance, demonstrated originality and uniqueness of applied project management techniques. Effective applications in the management of scope, time/schedule, cost/resources, quality, human resources, communications, risk and contracts are specific areas that will be evaluated. In addition, demonstrated complexity of the project and unusual conditions, issues and barriers requiring special management action and performance will be rated.
---
Category: Innovative Team Development
Winner: Winner Not Awarded

This award recognizes project teams that have used innovative or new techniques to foster project team development and have done so in a manner that demonstrates the successful application and related skills transfer of the techniques. Project teams will be evaluated on the basis of new skills and their potential contribution to recruitment, retention and organizational effectiveness.
---
Category: 2000 Special Category Award: Education
Winner: Provincial Learning Network / PLNet (Ministry of Education)

This award recognizes the development and implementation of an IT solution in education that has significantly improved education program delivery and/or enhanced services to students. Achievement will be assessed on the basis of innovation, excellence, and benefit to students, educational professionals and the community.
---

Winner: Shawn Thomas, Senior Vice-President, Marketing, Communications and Public Affairs, British Columbia Hydro and Power Authority.

This award recognizes Shawn's innovation and initiative in getting BC Hydro to sponsor the conference.



---

Winner: Byron Barnard, Assistant Deputy Minister, Information Technology Services Division, Ministry of Management Services.

This award recognizes Byron's involvement with the conference since the first planning days. He contributed strategy, advice and support all the way through.